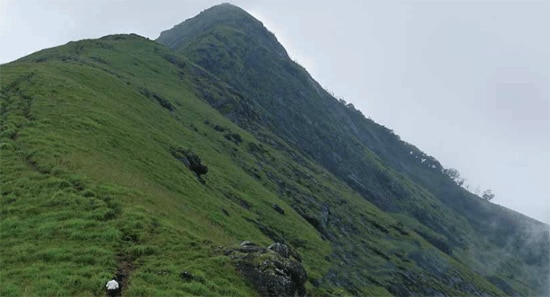 Chembra peak is the highest peak in Wayanad, at 2,100 metres (6,900 ft) above sea level. Chembra is located near the town ofMeppady and is 8 km south of Kalpetta. It is part of the Wayanad hill ranges in Westersn Ghats, adjoining the Nilgiri Hills in Tamilnadu and Vellarimala in Kozhikode.
Chembra peak is accessible by foot from Meppady. District Tourism Promotion Council provides guides and trekking equipments on hire charges to the tourists. Permission from the forest office in Meppady is required for trekking up to Chembra Peak. The next poisnt is watch tower from there on can raech the heart shaped lake within one and half hours trekking.
A heart shaped lake which is called `Hridayathadakam' en route to the top of the peak is a major tourist attraction. The lake situates 4500 feet above sea level. Durinb the rule of Britichers there was camp office. The lake is believed to have never dried up.
A 5 km journey from meppadi town through tea estates to Erumakkolli one can reach the forest office, from where a pass has to be acquired to trek the mountain. Also services of guide can be availed which might be very useful. The trek to the top takes 3 hours. Form the peka of the mountina one can have a glimpse of major troius detsinations like bVaithair, Karappuzha dam, Banasurasagra dam.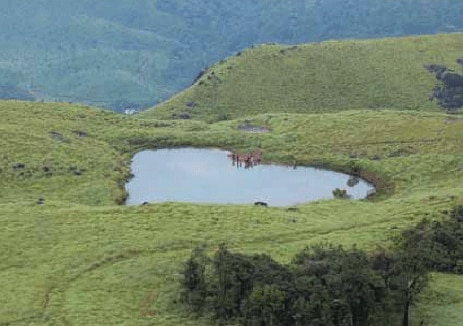 Chembra is located in Meppadi (Meppady) Panchayath , 11 km off NH212 (Kollegal - Mysore - Kozhikode). From Meppadi town take diversion to Chembra estate road. For people who prefer public transport, KSRTC (both Kerala & Karnataka) and a lot of private companies operate overnight deluxe buses between Kozhikode and Bangalore . Trekking charge is Rs 500 for 10 persons
Visting pass upto watch tower is Rs 50 and for camera it is Rs 25 and Rs 200 for video.
Stay

Stay at Meppadi, Kalpetta or Ambalavayal